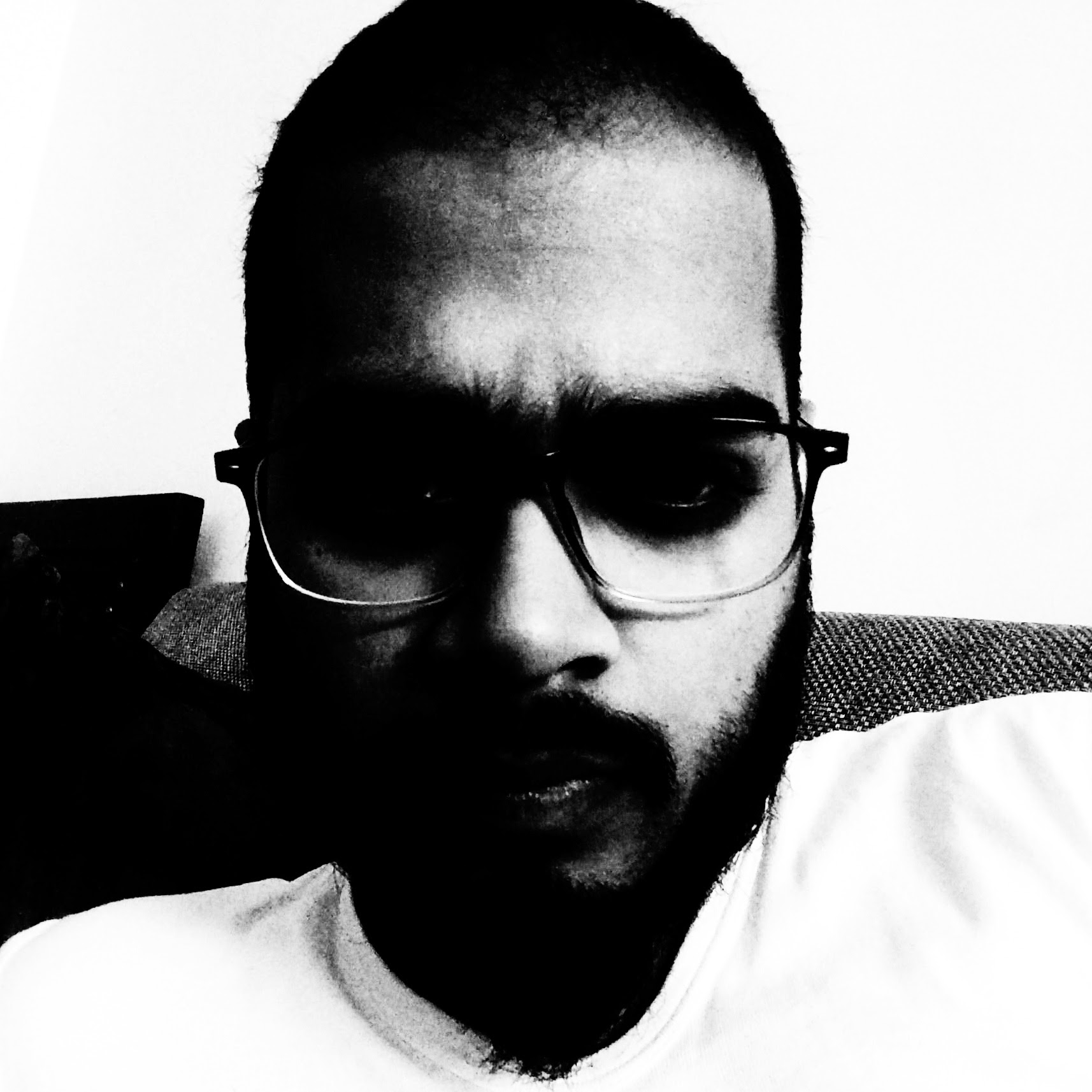 Ian Crasta
Sr. UX Design Consultant
Made with
Automobile Service Provider Marketplace
Carcility, Dubai
Introduction
Project Background
Based out of Dubai, Carcility focuses on the pain points faced by all vehicle owners towards repairs, servicing and general care. As a marketplace and aggregator for garages, service centres and car wash centres, their customers are able to get quotes, book slots and see live status updates of their vehicles.
We started working with the Carcility team in December 2016, at the beginning of their startup journey. Taking their outline of pain points that needed to be solved and key features, we set out to designing the user experiences for the mobile and web apps of the system.
Project Goals
Understand and empathise with the various personas that would be involved in the system.

Design the iOS, Android and web app experiences for their customers and vendors
Team
1 Lead UX Designer (Myself)

1 Junior UX Designer

1 Visual Designer/Illustrator
My Key Responsibilities
Primary and secondary research

Information architecture and user flows

Primary wireframes

Wireframe prototypes

Visual design coordination

Developer handoffs
Design Tools
Process
My process varies across projects and is determined by factors such as the goals of the project, the business needs, the problem that is to be solved, project time, etc.
For this project, I used the following process
Domain understanding through primary and secondary research and competitor audits

User flow mapping

Wireframing

Wireframe prototyping

Visual design and high fidelity mockups
The project started with a knowledge sharing session between Carcility's team and us. They had created a broad outline of features and user stories based on their vision for the marketplace. This helped us get a base level understanding of what they wanted to achieve. We used this for our competitor audit while establishing where Carcility could excel.
In order for us to empathise with the target audience, we conducted our primary research through qualitative surveys with potential customers and vendors. This helped us establish personas for whom we would be designing our experiences.
Competitor Audit
We felt it would be useful to see how the market looked in the UAE as well as internationally.
We came across 3 competitors in UAE and 14 other platforms internationally.
What became clear was that most of these services did not provide a seamless experience. Customers had to either go to a select few vendors, or were provided with a limited set of services that they could avail at their doorstep. About half of them did not have mobile apps and real time vehicle status updates. Other issues that we noticed were poor usability and outdated aesthetics.
Interviews
We conducted telephonic interviews with 5 car owners (customers) and 7 vendors based out of Dubai.
I prefer taking an informal approach to the user interviews. Below is the outline around which we spoke to each person and insights gathered.
Car owners (Customers)
Questions:
How many cars do you have? What cars do you have?
How often do you go for a car wash? Why? Where do you take it? When? What type of wash do you normally go for? Who takes the car for a wash? How much time does it generally take? Do you have a preferred car wash centre? How did you find it? How much does it typically cost? Have you ever taken any add on services?
What issues have you faced with regard to servicing, car washes and repair work?
How often do you service your car? When do you take your car for servicing? How do you choose a service centre, do you only go to an authorised service centres?
How do you find out that there is a problem with you car/ your car is in need of servicing? How aware are you of the specific problem your car is facing?
Have you ever scheduled a booking for a car wash or service?
Do you currently use any packages for car services? If not would you prefer monthly/yearly package for servicing/cleaning?
Have you ever been in a car accident? What was the procedure you followed? How did you coordinate with the insurance company? What difficulties did you face after the accident? How long did the car repair take?
What do you find the most time consuming when you need to repair, service or clean your car?
Have you received any offers/discounts for services? (Loyalty or referrer incentives)
Have you ever used any app or website for car servicing/washing/repairs? If yes, how long did they take to respond?
Key insights:
Booking times are generally inconvenient.

Customers are some times made to wait even though they are informed that the car is ready.
Most customers would be willing to try a subscription model if a reasonable discount is provided.
Customers select vendors based on assurity or convenience, i.e. either authorised service centres or vendors near their location.
Customers generally give their cars for servicing/cleaning on their way to work and pick them up while returning.
Vendors
Questions:
How does a customer make a booking at your service centre (phone call, online)

Do you have a website?
Are you listed on any car service/wash platforms? How was your experience with them?
Do you have branches?
What services do you provide? Do you offer emergency car services?
Do you offer pickup and dropoff of cars?
What is the typical split of customers for repairs and servicing?
When you receive a request generally how long does it take you to get back to the customer?
Do you provide any offers /discounts to customers?
How many people manage incoming bookings at the centre?
Do you have a system for booking? How does it work?
Do you have a mobile wash/service facility?
Key insights:
Only a few centres have websites. Most of them are not part of any booking platform. Their enquiries come through walk-in's, google maps, word of mouth or WhatsApp.

They typically have a single manager at each centre who maintains slots
A majority of them have pick up and drop services.
Most business comes from repeat customers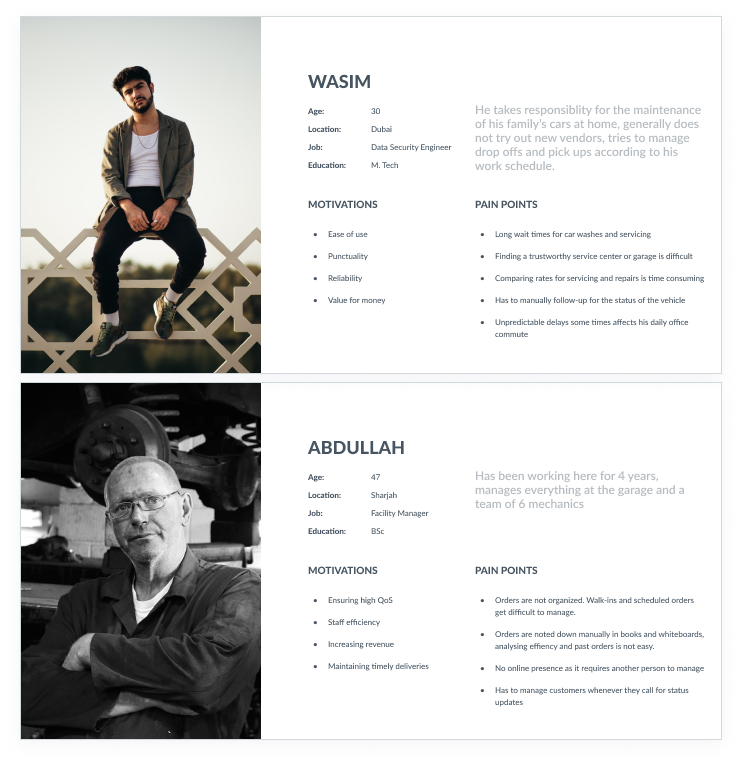 Personas
Based on our interviews we set up 2 main personas and referred to them during the experience design process. These personas were especially important as our team was not part of the target audience.
Having the personas helped the team empathise closely with the users and we would often ask ourselves WWXD?
Key Personas
Individual customer
Business customer (works with a fleet)
Vendor manager
Customer Journey
Creating a Customer Journey Map helped us understand our users' behaviour better, and focus our brainstorming sessions towards the various problem areas.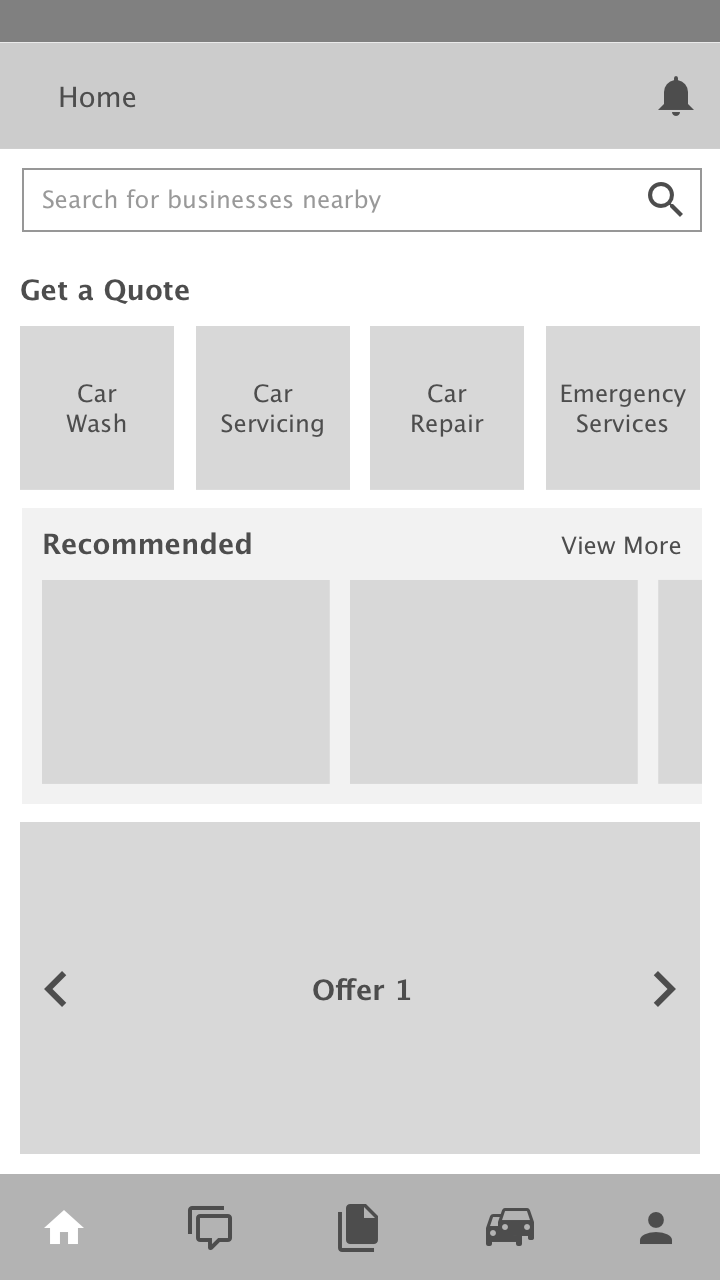 Wireframes
My intent with the wireframes was to be able to use them as documentation for the complete development of the apps. Creating medium fidelity wireframes along with clickable flows on Invision ensured that all flows were considered along with numerous edge cases. Wireframes were created for the customer experience on mobile as well as the vendor experience on the web.
We tested the clickable wireframe prototypes (on the right) internally to fix usability issues prior to the visual design phase of the platform.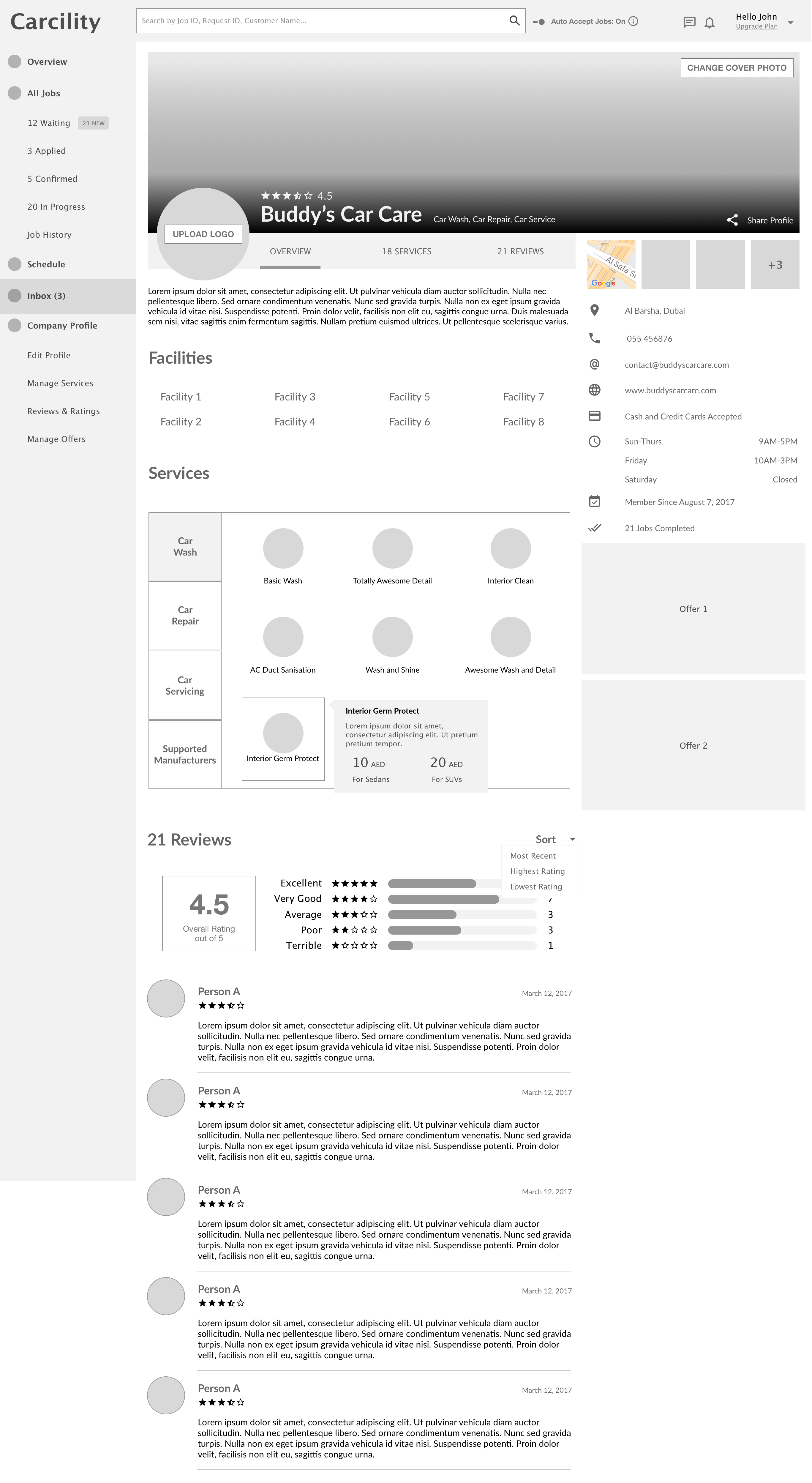 A similar approach was taken for the vendor wireframes below.

UI Design
After testing the wireframes, we started work on the visual design of the platform. Our UI was inspired from AirBnB for its simplicity and trendiness.
My role was mainly to ensure that the UX thought process was carried forward during the visual design.
Team Syncing
I was involved in ensuring that all design queries from the development team were addressed.
Assets, screens and style guides were shared through Invision.
Project Learnings
This project had a few firsts for me:
As I was responsible for designing the customer and vendor experience, I had to understand the data flow aspect of a product, i.e. how information is enters a platform, how it gets manipulated by each user type and the potential effects it could have on other user types.
Conducting overseas telephonic interviews required some tact in keeping the interviewees attention on point.
I learnt the importance of using a design system the hard way.