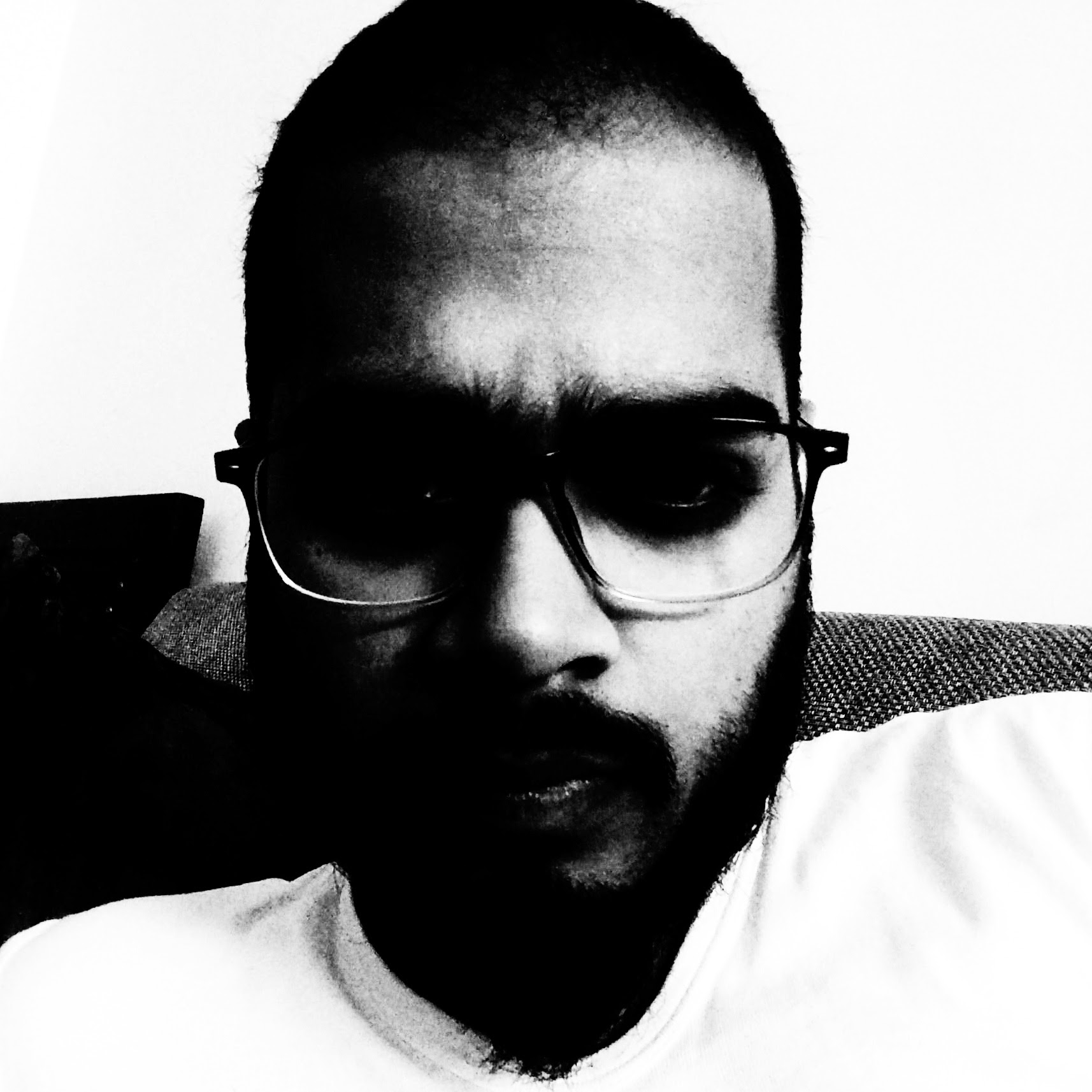 Ian Crasta
Sr. UX Design Consultant
Made with
Point-to-Point Premium Shared Cab App
Mahindra Glyd, India
Introduction
Project Background
Glyd, is an initiative by Mahindra and Mahindra that aims at redefining the in-commute experience of daily commuters. Using a fleet of electric cars, Glyd will ease the office-going executive's commute, while supporting several premium car features such as personalised tablets for each passenger, curated entertainment, over-the-ear headphones and rear seat partitions for privacy.
Mahindra Glyd approached us to design their MVP product for pilot launch of Feb 2019.
Project Brief
To design 2 experiences for the commuter, i.e. 1 phone app focused on trip booking and 1 tablet app focused on the in-commute experience.

To design an app that would be used by the fleet drivers for managing their daily trips.
Team

1 Lead UX Designer (Myself)


1 Product Designer

1 Visual Designer/Illustrator

1 Creative Director

My Key Responsibilities
Product strategy and direction

Primary Wireframes
Project coordination
Design Tools
Process
My process varies across projects and is determined by factors such as the goals of the project, the business needs, the problem that is to be solved, project time, etc.
For this project, I used the following process
Stakeholder meetings and Product understanding
Design
Delivery
Stakeholder Meetings
We met with the core team of Glyd to get a detailed understanding of what they wished to achieve through the platform. They shared their findings through detailed market analysis performed by a separate team. The focus of the service would be towards wellness and entertainment, and not the utility factor of the service. They also helped us understand their typical customers and their feedback on existing car pooling services.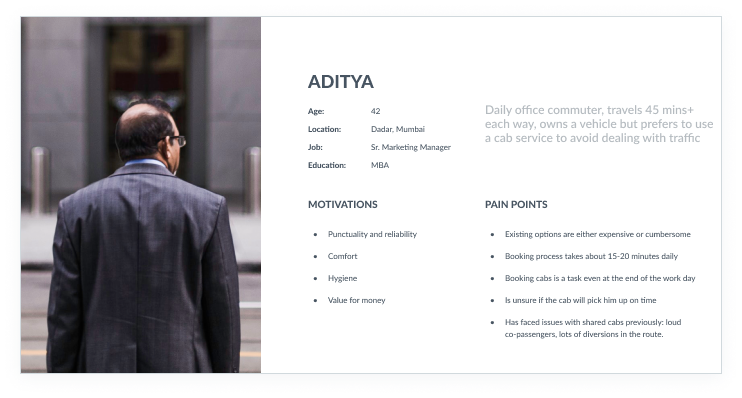 Target Audience & Personas
Target Audience
Males and females aged 28+ years, earning over Rs. 12 lakhs per annum
May own a car but does not use it for their daily commute
Currently uses cab services to commute to work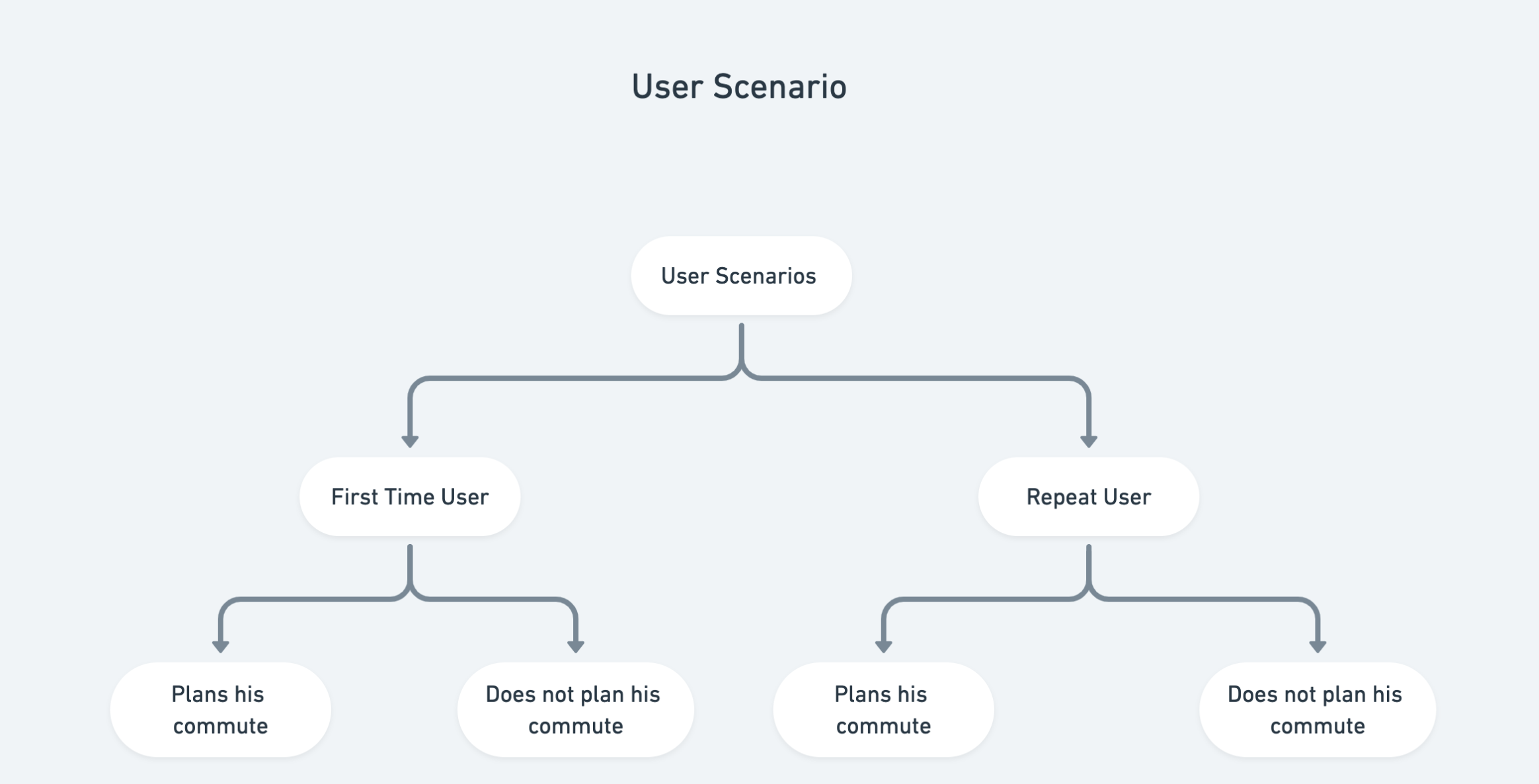 User Scenarios
In order to design keeping the right commuter in mind, we drew up high level scenarios in which a user would use this app.
We then grouped activities based on what could be done in combination with other activities.
We also grouped activities based on if they would be typically planned or not.
Information Architecture
Using affinity mapping, we derived at the information architecture of the In-Commute experience app.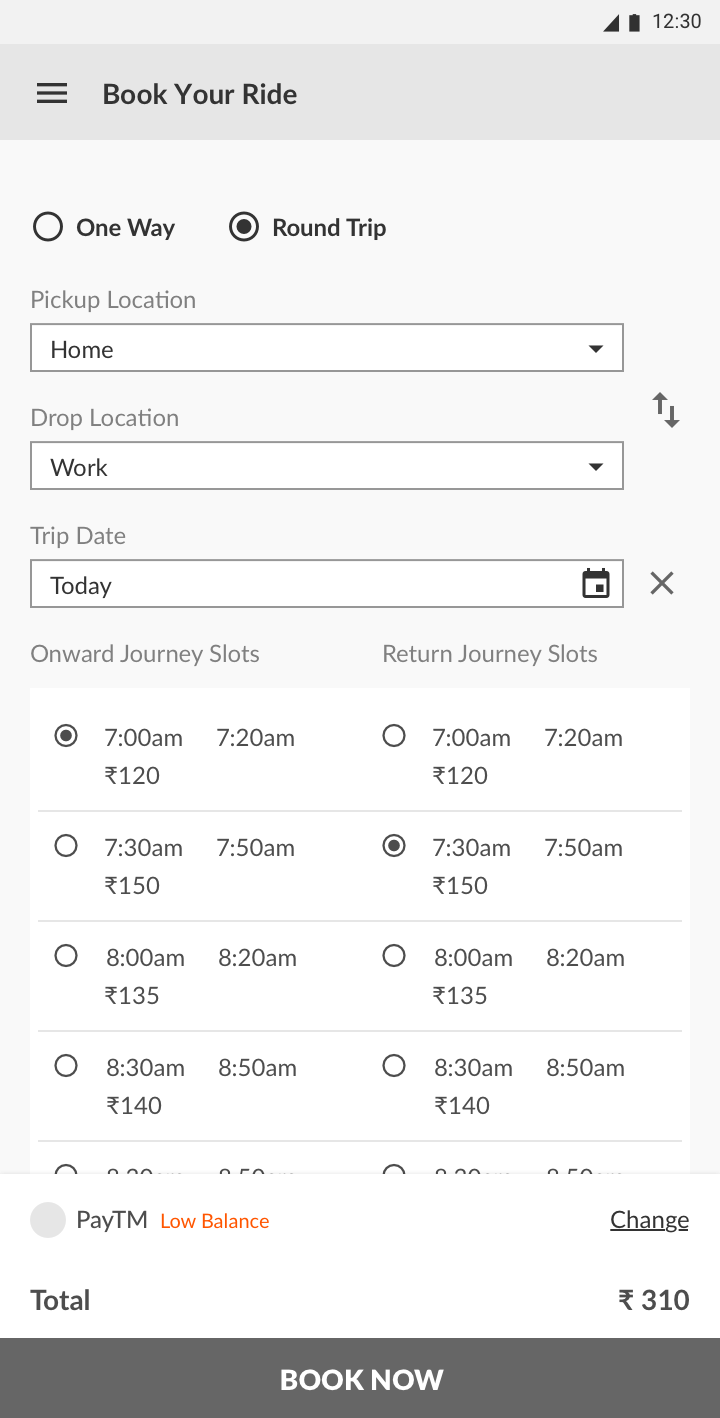 Wireframes
My team and I simultaneously worked on all 3 apps: the commuter mobile app, the commuter tablet app and the driver mobile app.
Commuter App
The commuter app was designed to reduce the number of clicks while making a booking.

View the prototype here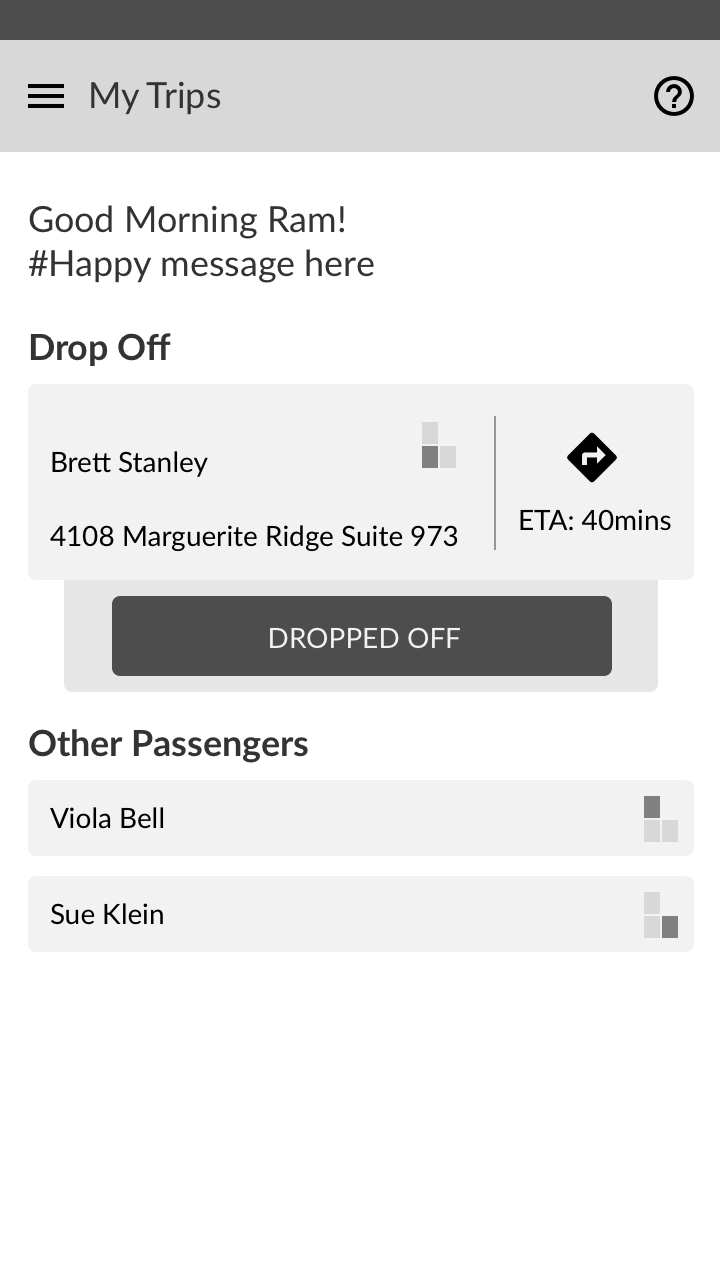 Driver App
The day of the driver would typically start at 6:30 am where he would be expected to log into the app. This would also act as an attendance marking system. He would then proceed towards a fleet hub where he would scan the QR code of the car that has been allotted to him for the day. On entering the car, he would conduct a check across 8 parameters ensuring that the vehicle is fit for the commuters. Post this he would be informed of his first passenger's pickup followed by the rest of his tasks.
While designing the driver app, we were asked to keep what the drivers are currently used to in mind.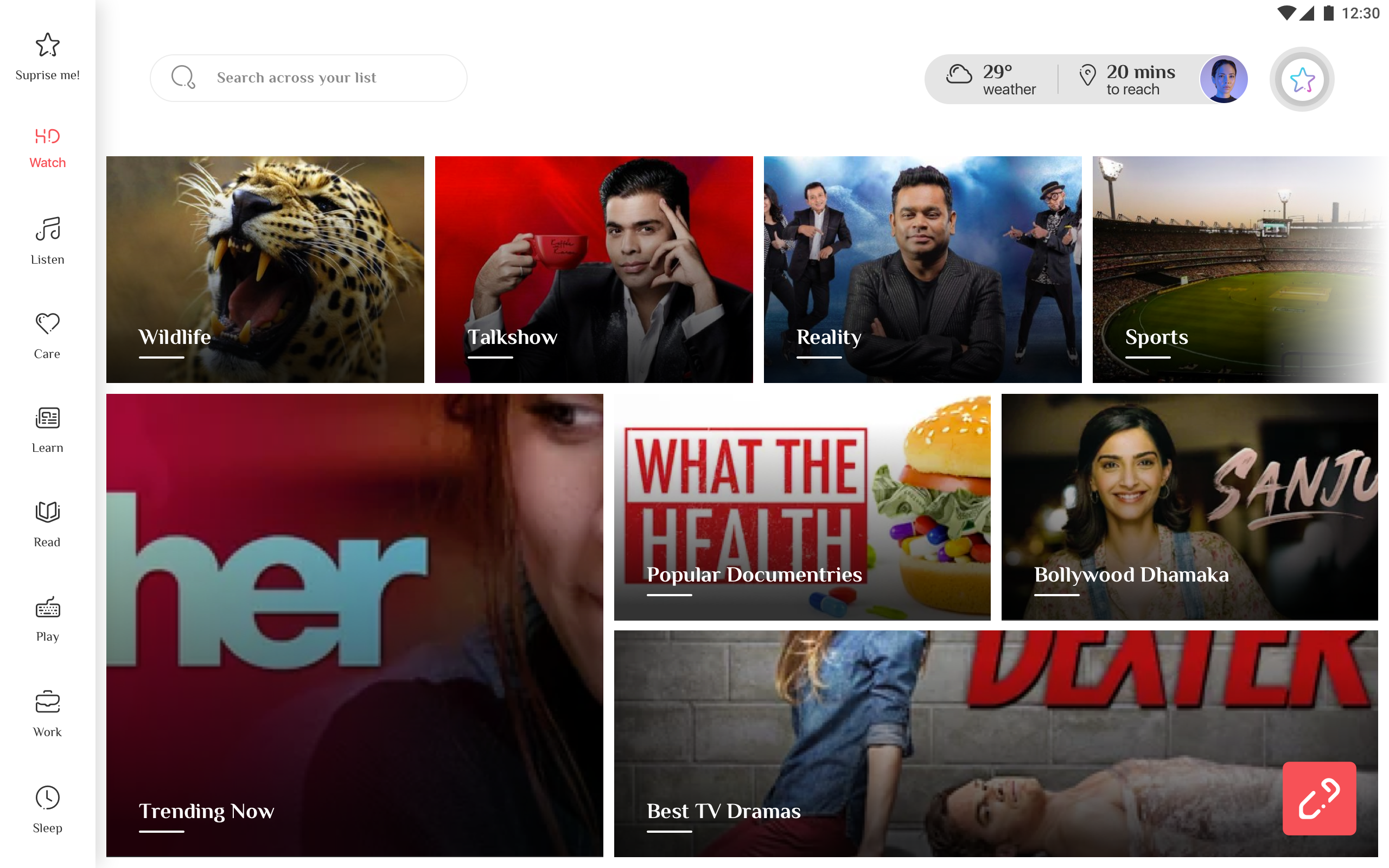 Visual Design
During this phase, I was mainly responsible for ensuring that the UX thought process and interaction concepts were carried forward by the Visual Designer.

We worked extensively on the visual design to ensure that a premium as well as functional UI was achieved.
In-Commute Experience
Our process lead us to create 2 distinct methods of accessing content, through a catalog approach, and through a discovery approach.
For the discovery approach (below) we used an unconventional rotary dial concept to switch between activities. Heavy imagery was used to pique the commuter's interest.
Commuter Booking App
Our focus while designing the commuter booking app was to ensure adherence to the brand guidelines and intuitiveness through colours and patterns.